The Labor Research & Action Network (LRAN) held its 12th annual conference recently at Georgetown University in Washington, DC. A project of Jobs with Justice, LRAN is a national network of labor academics, union researchers, and worker center and community organization staff. They meet to discuss organizing and bargaining campaign strategies, as well as strategic research and policy fights. The goal is to share expertise, better coordinate this work, and further develop the network of campaign strategists for the broader labor movement.
This year's conference had 250 folks in attendance, its highest number so far. Some news from the conference can be found at #LRAN2023 on Twitter.
The keynote address was delivered by Lindsay Dougherty, a Teamsters Vice President and leader of their Hollywood Local 399. She discussed their organizing and support of the major ongoing Writers Guild strike. Jobs with Justice Executive Director Erica Smiley asked her the important question we're all wondering, "How do we get a Teamsters jacket?"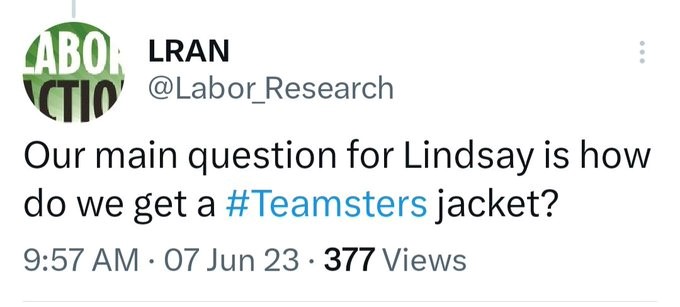 The opening plenary session was titled Democracy Under Siege: Resisting Tyranny Through a 21st Century Labor Movement, and featured a discussion with Fedrick C. Ingram, Magaly Licolli, Destiny Blackwell and Bill Fletcher, Jr. about how the labor movement can more forcefully defend democracy against the threats from the far right.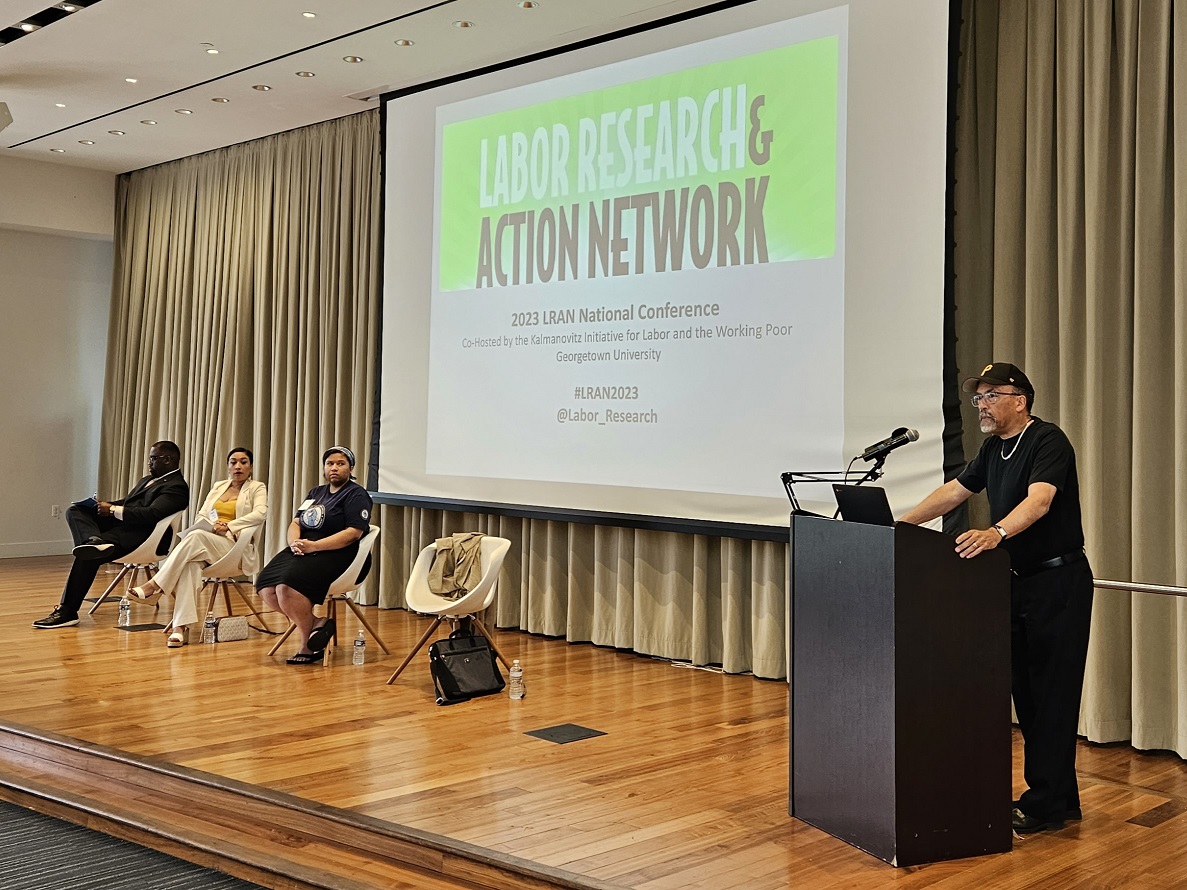 The conference featured workshops on labor-community partnerships, how we conduct employer research, and progressive policy fights on wage theft and other issues.  The conference always has a good mix of strategy discussions, campaign case studies, and more nuts-and-bolts research and policy sessions.
The workshop titled Building New Models for Strategic Research facilitated a discussion on how the ways we do strategic research and campaigning is evolving over time as the economy changes and employers adopt new strategies and structures.
The workshop Building the Strategic Research and Campaigning Army Our Movement Needs: A Minnesota Case Study was led by Bargaining for the Common Good, and discussed how groups in Minnesota are developing more strategic campaigners.
At the session called Bridgebuilding: Constructing a Strong Movement Ecosystem, staff members from groups in California and Ohio discussed their work on organizing and policy to deal with wage theft and develop better jobs for Black workers. The session participants constructed a map depicting the issues and connections around the country.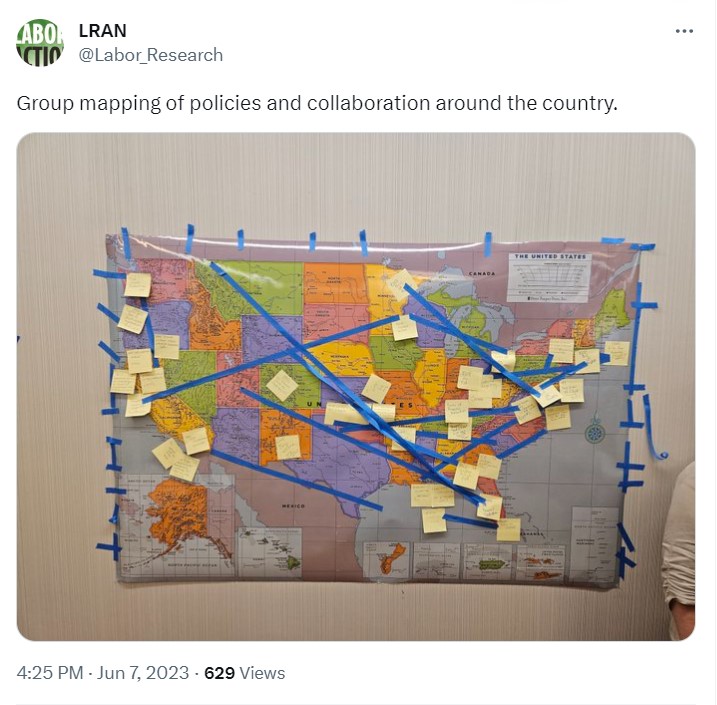 And as always, the winners of the New Scholars Research Grants presented their research on various labor topics. Particularly interesting was a project by Dr. Erica Wills interviewing union auxiliary groups that formed to assist with mineworker strikes in multiple states, which will lead to a useful guide on organizing these support groups. Also noteworthy was a project by Carla Lima and Destiny Blackwell studying the organizing at an Amazon facility in North Carolina.
LRAN also hosted a Three Minute Thesis competition where contestants presented their research in three minutes using only one slide. A panel of judges awarded the three prizes to Dr. Erica Wills, Sophie Mariam and Destiny Blackwell.
The annual LRAN membership meeting featured a discussion on current LRAN work and possible new projects. We also remembered labor economist William Spriggs, who had recently passed away.
The closing plenary session, titled Building Strategic Labor-Community Alignment & Capacity, had a fascinating discussion on how labor and community groups have organized for more power in Minnesota over the last decade, culminating in the election of a full Democratic Party trifecta and the passage of many progressive policies this last year. Their model and the lessons learned there can be replicated in other states.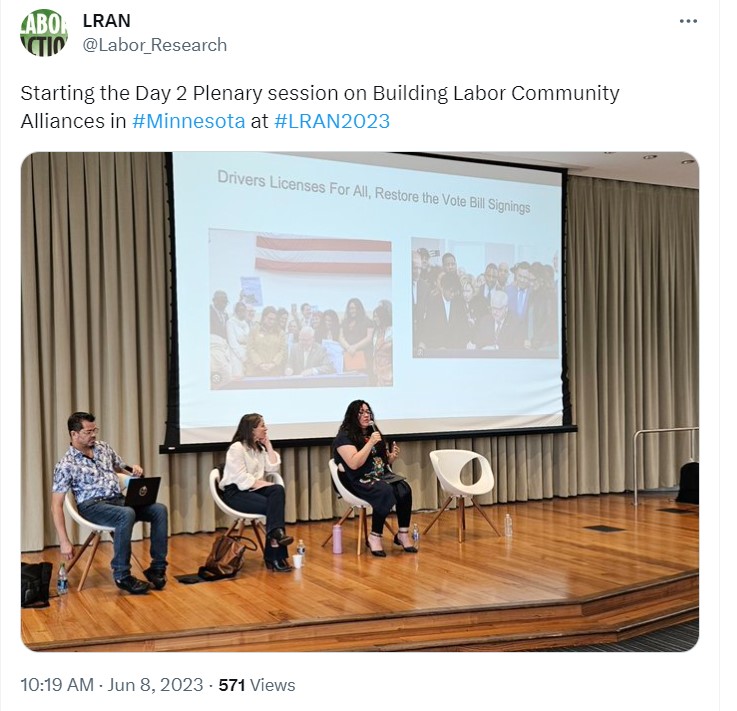 More information about LRAN can be found at www.lranetwork.org. Information about the 2024 conference will come out later this year.